ADA Bathroom Design

Private Home Construction and ADA Bathroom Design

(Please see related accessible bathroom articles below.)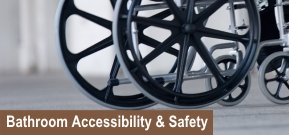 If you are physically challenged, or ever had to use crutches or a mobility chair, you know first-hand how difficult it is to maneuver in and around a typical bathroom. 
Thanks the the Americans with Disabilities Act (ADA) building codes have changed in regard to accessibility to public facilities for physically challenged people. 
Moreover, an increasing number of consumers who are having their homes constructed or refurbished are incorporating ADA guidelines when designing residential bath areas. Having ADA bathroom design can be a plus in the resale of your home, as well as a special benefit in the event you or a family member should become disabled.
Following is an overview of design points to consider:
Doorways must be a minimum of 32 inches wide to accommodate wheelchairs and walkers. Doors should swing out rather than in, with clearance on both sides. This is in case someone falls in the bathroom and blocks the doorway. Pocket doors may also be used.
The threshold of the doorway should be even with the adjacent floor.
Provide for an area large enough to hold a five-foot circle to allow a wheelchair 360-degree turn. Consider installing a barrier-free shower.
Make sure a wheelchair can roll up to the sink with knee room underneath. Do not block access with a vanity cabinet. Shelves, baskets and trays must be built at accessible heights from a seated position.
Provide wall-mounted grab bars both in the toilet area and in the tub and/or shower. Use "L" shaped, horizontal and/or vertical bars. 
Mount bathtub faucet controls toward the entry side of the tub where they can be reached easily.
Avoid hard-to-open latches and door handles. Consider using lever handles.

Add accessible faucets, such as single-handle or lever type that do not require a strong grip to operate.
Add a wall-mounted handheld shower head, preferably mounted on a slide bar so someone of any height can use it.
Install a seat at the head of the tub or inside the shower enclosure.
Consider installing a programmable faucet that limits water temperature to prevent scalding.
Make sure that lighting is bright when needed, but provide for a low level alternative so that someone isn't blinded by it in the middle of the night.
Choose impact-resistant tub and shower enclosures.
Be certain that all flooring materials are non-slip, including throw rugs.
Use door locks that can be opened from outside in case of emergency.
Toilets should be a height without the seat of either 16 ½ inches (used in residential construction) or 18 inches (used in commercial construction) to make it easier for someone in a wheel chair.
Those without disabilities often prefer these measurements to traditional units because they are easier on the knees. These larger specifications are starting to become much more commonplace in residential master baths. However, taller units are not always comfortable for shorter people or for children.

This article on ADA bathroom design has been provided by Ohio-based Keidel Supply Co. Inc., residential and commercial ADA construction experts.
Related Information - ADA Bathroom
Benefits of a Walk In Bath Tub
Installing a Bath Tub Lift
Other ADA Requirements
Handicap Showers
Handicap Bathtubs
Mobility Toilet Aids
Shower Chairs
How to Build a Wheelchair Ramp
Selecting a Raised Toilet Seat