Types of Mobility Ramps
There are a wide variety of mobility ramps that enable wheelchair and scooter users to more easily enter buildings and maneuver curbs, steps, doorways, vehicles, and other places that otherwise would not be accessible.
To help determine the type of ramp that best meets your needs, following is a summary of access ramp categories. Ramps are available for purchase through medical supply retailers, mobility stores and online sellers.
Modular Ramps
Customized for permanent or semi-permanent placement, these access ramps are built to accommodate specific access points and may include platforms, integral landings, self-contained leveling systems, supports, wheels, flanges, and handrails.
Threshold Ramps

Used to help wheelchair or scooter users traverse uneven or rough surfaces such as doorways and other raised areas, these models can be installed permanently or moved from one location to another.
Folding, Portable Ramps
These ramps are typically made of aluminum and are designed for maximum portability. They feature single or multiple hinged folds that allow them to be easily stored, carried and set up when needed.
Telescoping Wheelchair Ramps
These models, which feature two fitted platform sections that slide against each other, are designed to adjust to different lengths to accommodate various types and sizes of inclines.
Track Ramps

Track wheelchair ramps come in a variety of sizes (some with telescoping features) and are designed with "tracks" to align with the wheels of the wheelchair.
Van Access Ramps
These ramps are designed to provide side or back door access to a mobility van. They can be manual or electronically operated and are usually made of aluminum and nonskid materials.
Additional summary information on ramps types can be found by clicking here or on one of the related articles below.
DIY Ramps
If you are considering building a ramp for internal or external use, check with local authorities to see if  you need a building permit.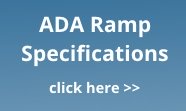 In some cases, you will be asked to submit a plan to make sure the ramp conforms to building code. 
Whether you choose to build a permanent or temporary ramp, make sure it is constructed with weatherproof material that won't rust, peel, or fade in the sun. The ramp should have all safety features that match guidelines established by the American Disabilities Act (ADA). 
Make sure the rise of the ramp is appropriate for you. In addition to meeting appropriate slope and width requirements that the ADA requires, your ramp will need safety features including a nonslip surface and sturdy leg supports and handrails. Visit ramp specifications from the ADA for specific requirements.
Of course, mobility ramps should be sturdy enough to withstand daily use and wide enough to accommodate wheelchairs comfortably.
For wheelchair ramp safety tips, visit this link: ramp safety. Additional articles on mobility ramps are listed below.
Related Info - Mobility Ramps
Mobility Ramps - An Overview
Portable Access Ramps
How to Build a Wheelchair Ramp
Folding Wheelchair Ramps
Suitcase Wheelchair Ramps
Scooter Ramps - Safety Tips
Folding Wheelchair Ramps
ADA Wheelchair Ramp Specifications
Types of Portable Ramps