Handicapped Bathtubs
There are a wide range of handicapped bathtubs on the market today that are designed with style and accessibility features to accommodate the needs of individuals with physical disabilities.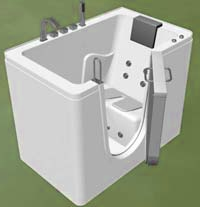 One of the most popular tub designs is the "walk in" bathtub.
Typically sized to fit in the same space as a traditional bathtub, walk in models allow users with mobility issues to easily and quickly enter the tub through a swinging, gate-like door.
This door feature removes the issue of having to step over a tub wall that can be two-feet or taller to take a bath. Typically, the step in a handicap tub is less than five inches.  
Walk-in bathtubs reduce the opportunity for injury and falls that could occur by climbing over the wall of a traditional tub.
Additionally, an accessible bathtub is designed with a seat and hand-held shower head for convenient and safe use. Users do not need to lower themselves to the bottom of the tub, only onto a seat.
After sealing the tub door with a knob or button, the bather can relax comfortably and take advantage of optional features like hydrotherapy, temperature control and self-drying features.
Those with more severe mobility limitations and wheelchair users may opt for a handicapped bathtub model where the door opens outward to make them even easier to access. A "sit and pivot" style chair allows wheelchair users to transfer themselves to the tub with greater ease.
Special features can be installed including water temperature control, whirlpool or hydrotherapy features, additional safety bars, storage areas and special fixtures.
A growing number of companies offer bathtub conversion services and/or handicapped bathtub installation that can be completed in a relatively short period of time. Before you hire a bathtub conversion specialist, check licensing, references and the Better Business Bureau in your area.  
Installing an accessible bathtub or shower can help mobility challenged individuals live a more independent lifestyle, while enhancing convenience and bathroom safety.
The disadvantage of handicapped tubs is the time it takes for the water to fill and exit to accommodate the door feature. For example, if you are using a walk-in tub, you have to wait for the tub to fill up with water after entering and then wait to have the tub drain before you can exit.
In addition to a walk-in tub, there are are tub lifts and other tub and shower transfer systems that help make existing bathtubs safer and more accessible. 
ADA Bathroom Design 
Mobility Resources
Bath Tub Lifts

Return to Mobility Advisor HOME from Handicapped Bathtubs