Wheelchairs for Dogs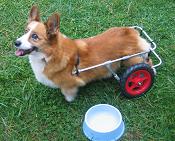 Wheelchairs for dogs can be transforming to canines who can no longer use their hind legs because of an accident or medical condition such as hip dysplasia, cervical disease, ruptured disc, spinal disorders, arthritis or other ailments.
With the help of custom-fit mobility equipment, your pet may once again take walks in the park, play with other dogs, or chase a ball across your front yard. In addition to a pet wheelchair, using dog ramps inside and/or outside of your home will help your dog get to places that were once accessible.
As you consider options to help your pet, be aware that dog wheelchairs and ramps can only be of assistance if your canine has adequate front-leg strength and function. The front legs are essential to propelling the dog wheelchair.
There are skilled specialists who build and customize wheelchair devices for dogs, based on your pet's health condition, size, weight, and physical capability.
For example, Dewey's Wheel Chairs for Dogs of Oregon has an original design that is proportioned for each dog and uses aluminum tubing, light weight plastic, neoprene rear support and a pneumatic wheel, the lightest on the market.
Made with durable materials, wheelchairs for dogs are user-friendly to the owner and pet. They are designed to withstand wear and tear under normal "doggy" conditions.
To find experts who build dog wheelchairs, contact your veterinarian, university-sponsored veterinarian schools, reputable animal breeders or animal shelter directors. A list of dog cart providers may be found by clicking here and you will be able to source additional contacts by searching the web.
Always check references and consult with your veterinarian before moving forward on ordering a mobility device for your pet.
Once you have selected your wheelchair provider, ask for counsel on how to help your dog adapt to using his or her new wheelchair. Also, talk with your vet about recommended training techniques to help your dog use his or her new "wheels" to get around.
External factors may play a role in your pet's adjustment to a dog wheelchair. For example, a case of fleas or ticks can create extra stress and impede your dog's acceptance of the new wheelchair.
If your dog is still recovering from an injury, wait until he or she is fully healed before introducing a dog wheelchair. For additional information, please see the articles listed below.
Photo courtesy of K-9 Cart Company
Related Information - Wheelchairs for Dogs
Resources for Wheelchairs for Dogs
More on Dog Wheelchairs
Dog Cart Types
Cat Wheelchairs