Considering a Walk In Bath Tub?
A walk in bath tub is designed to accommodate people who have challenges getting in and out of conventional bath tubs and who are concerned about guarding against potential falls. Walk in tubs allow people with limited mobility to bathe with little-to-no assistance and maintain their independence. Yet, the entire family can enjoy the benefits, comfort and safety of these accessible tubs.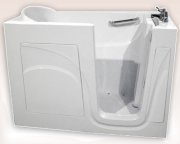 Standard Walk-in Tub Features
A walk in bath tub comes with safety features, including a non-slip surface, watertight sealing door that is easy to open and close, comfortable built-in seat, safety bars, and an easily accessible shower head and controls. The door has a safety lock, which prevents it from swinging open while you bathe.
Some of these accessible tubs have contoured seats for increased comfort. In addition, a power seat can be installed to lift wheelchair users in and out of the tub. It is possible to transition directly from your wheelchair to a power seat.
Additional Features

Extra features that your tub may come with include whirlpool and hydrotherapy jets, LED chromatherapy lights, and an aromatherapy system. These extra features are designed to maximize your relaxation and enjoyment when you bathe.
Additionally, since you have to sit in your walk in bathtub and wait while it fills up and drains, installing quick filling and draining systems provide added comfort and convenience.
Benefits of Switching to a Walk-in Tub

Walk in bath tubs provide a number of benefits. They allow people with limited mobility to bathe more safely, comfortably and conveniently.
Many individuals can bathe without assistance by using a walk-in tub, which enables greater privacy, independence, and dignity. Even when caregiver assistance is required, walk in tubs facilitate the bathing process by making access and transfers easier.
The non-slip surfaces of walk in tubs permit users to bathe with less worry about slipping and getting injured. Convenient swinging doors make it possible to more easily get in and out of the tub. Built-in seats allow users to bathe with greater ease and comfort.
A walk in bathtub also provides therapeutic benefits. Soaking in a tub relieves pain, eases muscle tension, and improves circulation by causing the blood vessels to dilate.
If you have add-ons like hydrotherapy jets or an aromatherapy system installed in your tub, you can make the bathing experience even more relaxing and enjoyable.
Accessible tubs come in a variety of sizes and styles. They are designed to fit into the same space configuration as a regular bath tub. A growing number of bathroom outfitters offer tub replacement and conversion options to accommodate walk-in designs.
As you consider a tub conversion or walk-in bath tub installation, evaluate a number of companies and the types of tubs they offer. Compare features, tub aesthetics, pricing, installation timing, payment terms and warranties.
According to J. Steven Scott of Washington-based Innovative Walk-in Bathtubs, it is essential to ensure that the bathtub you choose is UL listed/approved. It is not sufficient to have some components listed. All the bathtub's apparatus must be UL listed/approved. For more information, visit www.UL.com.
Inquire about servicing once the walk in bath tub once it is installed, in the event there is a problem with functionality, water leakage or installation.
In addition, always check references from past customers to determine the level of satisfaction for a company's product quality, service, installation and value. Before finalizing your purchase, get everything in writing from the complete price to the timing of the installation.
Related Information - Walk In Bath Tub
More about Walk-in Tubs and Showers
Mobility Toilet Aids

Mobility Advisor HOME

›
Bathroom Accessibility
› Walk-in Bath Tub