Service Dogs
Service dogs, also known as assistance dogs, helper dogs, aide dogs, or support dogs, are trained to assist people with physical disabilities or visual and hearing impairments. These aide dogs allow people to remain as independent as possible by helping them with everyday tasks that they cannot perform themselves, such as the following: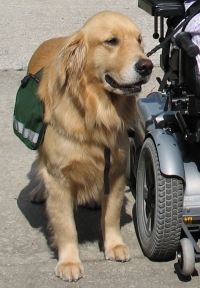 Opening doors and refrigerators
Carrying items
Retrieving the phone
Helping climb stairs
Moving a wheelchair
Alerting of unusual sounds or intruders
Picking up dropped items
Providing balance for walking
Activating switches
A dog of any breed or breed mix can serve as a support dog, but labrador retrievers, golden retrievers, and related mixes of these breeds are the most common. Desirable traits in assistance dogs include a good temperament, optimal health, strength, docility, and trainability.
According to the Americans with Disabilities Act (ADA), any dog trained to provide assistance to people with disabilities is considered an assistance dog, whether or not the animal is licensed or certified by the local or state government.
Some helper dogs wear special harnesses and collars so they can be easily identified by others. Support dogs are generally trained to avoid all distractions while wearing their gear and relax when it is removed.
Under the ADA, even businesses with "no pets" policies must allow aide dogs on their premises because the dogs are not considered pets.
People who rely on assistance dogs have the same access rights to privately and publicly-owned places and passenger vehicles as the general public.
The only exception is if an aide dog's behavior poses a threat to the health and safety of others. For example, an aide dog that growls at customers in a public establishment may be excluded.
Training, Certification, and Placement of Dogs
There are programs that train and place service dogs in most major cities. Yet, an increasing number of people are opting to train their helper dogs by themselves.
This may happen because they can't find a training program that meets their specific needs; they already have a pet dog; or they want to be with the dog from puppyhood.
Federal law doesn't require assistance dogs to be certified, so there currently isn't a standard certification process.
Some assistance dog training programs provide handlers with an identification card and dog equipment, however. Furthermore, some states and localities provide special licenses for assistance dogs.
For example, in California, owners of assistance dogs can register for an assistance dog tag at no charge. For more information about the rules regarding assistance dog licensing in your area, get in touch with your local or state animal licensing department.
Assistance Dogs International (ADI) is a coalition of non-profit organizations that train and place assistance dogs (assistancedogsinternational.org).
The objective of ADI is to set standards of excellence in the assistance dog industry. There is a list of member programs on ADI's site.
The United States Service Dog Registry (usservicedogregistry.org) is a free and voluntary assistance dog registry that provides free assistance dog identification. On their website, you can enter your zip code to find assistance dog resources in your local area.
For more information on assistance dogs, please see the list of articles below.
Related Information - Service Dogs
Types of Service Dogs
Aide Dog Training: An Overview
Requirements for Training Helper Dogs
Certification - Is it Required?
Finding Training Schools
Assistance Dog Supplies