3 Factors to Consider When


Purchasing a Mobility Scooter

Purchasing a mobility scooter that meet your specific needs requires careful thought and some research to ensure your satisfaction. Similar to purchasing car, several factors must be considered before the actual purchase takes place.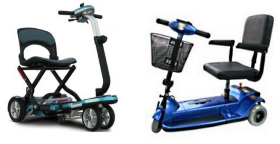 These factors include the physical attributes of the rider, the actual features of the scooter, and overall cost, among others. 
Following are three questions to answer, as you begin the purchasing process for your new scooter.
1. Is a Scooter the Best Mobility Choice?
If you have difficultly sitting in an upright position for an extended length of time, a mobility scooter may not be the right choice for you. Rather, an electric or power wheelchair may provide greater comfort and independence. Talk with your healthcare provider about the best mobility option for your specific requirements.
Also consider your ability to effectively reach and operate the scooter controls. For example, if strength or dexterity in your hands and/or arms is minimal, steering the mobility scooter may become arduous and your safety may be compromised.
Thankfully, there are a number of "comfort" additions that can be used in conjunction with most mobility scooters. For instance, some mobility scooters can be configured with a joystick that operates all the controls. This means the operator can move about seamlessly using just one hand.
Aside from that, users can also alter the seating arrangement either by purchasing a mobility scooter with a particular seating option, or by purchasing positioning pads.
2. How Much Weight will the Scooter Need to Transport?
Since mobility scooters are powered by a simple electric motor, the amount of weight (i.e. the rider, additional equipment, etc.) the scooter must carry does need to be considered as more weight will be taxing on the motor.
Different scooters are designed to accommodate different weight capacities, so it is important to shop around and find the most appropriate option. This includes the operator's weight and any items being carried on board. This may include a purse, oxygen tank or shopping bags that add to the overall weight.
3. Is the Mobility Scooter Covered by Health Insurance?
If you are on Medicare, there are specific criteria that determine your eligibility for financial assistance to acquire a scooter. Following are some of the factors. 

You have a health condition that causes significant difficulty moving around in your home.


You cannot perform activities of daily living (i.e. bathing, dressing, using the bathroom), even with the help of a cane, crutch, or walker.


You do not have the upper body strength to operate a manual wheelchair. But, you can safely operate and get on and off a scooter, or have someone always available to help you use the equipment.


You have met face-to-face with your doctor and received a prescription for a scooter that includes a certificate of medical necessity.


Your home must be configured for scooter use, including large doorways, hallways, etc. It should not be soley used for leisure purposes.
Note that Medicare will not approve a scooter that will be used solely for leisure purposes. For more information on Medicare eligibility and the process of Medicare qualification, click here: Qualifying for a Scooter through Medicare.
Please see the articles below for more tips on purchasing a mobility scooter.
---
Related Information - Purchasing a Mobility Scooter
More on Purchasing a Mobility Scooter
Major Scooter Manufacturers
Tips on Scooter Selection
Where to Find Scooter Deals
Used Scooter Considerations
Benefits of Scooter Mirrors
Mobility Advisor HOME

›
Mobility Scooters
› Tips for Purchasing a Mobility Scooter
---