Wheel Chairs for Dogs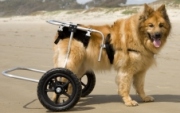 Wheel chairs for dogs can enhance the quality of life for pets if they have a health issue that hinders their ability to use their hind or front legs. There are also dog wheelchairs (also called dog carts) designed to provide new-found mobility to quadriplegic pets.
Dogs who are prime candidates for a wheelchair are those who have exhausted rehabilitation options and suffer from degenerative mylopathy, hip dysplasia, spinal or vertebrae problems cervical or disk disease, or neurological problems.
A dog wheelchair has four key components: a lightweight frame, the wheels, a harness and a support saddle. In addition, dog carts may include other features such as stirrups and/or counterweights that help with balance for dogs who have lost a limb.
Wheelchairs for dogs may be custom-built to meet your pet's specific measurements and health condition; or, you can purchase a ready-made a adjustable carts that can be fitted to the dog in a given size group.
Prices range from $200 to $600, according to the type of chair you purchase and the features your pet requires.
The type of wheelchair you purchase will depend on the counsel of your veterinarian and/or veterinary orthopedic surgeon who will assess your pet's specific needs and design requirements.
Most dogs readily adapt to their new mobility equipment in a short period of time; sometimes in a matter of days. In some cases, it takes a little longer, and some training may be necessary to help your dog fully adjust.
Note that a dog wheelchair may not be suited to a pet that does not have enough strength in his or her functioning legs and/or has a difficult or stubborn temperament.
Dogs who have adapted to their wheelchairs are able to once again enjoy freedom of movement and are able to run and play with other dogs. Their specially fitted carts can be built to traverse a variety of terrain though stair steps may prove difficult depending on the dog and the design of the wheelchair.
Most carts will allow dogs to "do their business" while using the wheelchair. Though, it may be difficult for the dog to lay down and rest. Therefore, limit wheelchair time as appropriate (one or two hours) and never leave a dog unattended in a wheelchair because of fatigue and the possibility of the cart tipping.
To find reputable sellers of dog wheelchairs, talk with your veterinarian, representatives from veterinarian colleges, animal breeders, or animal shelter directors.
In addition, you can find a list of resources for wheel chairs for dogs by clicking here: Dog Wheelchair Providers. In addition, an internet search should yield other dog cart sellers that have established businesses and provide a variety wheelchairs for dogs.
Before placing your dog cart order, thoroughly review the seller's building approach and product line. Also, be sure to solicit input from your veterinarian and check the seller's references.
More on Wheel Chairs for Dogs
Dog Wheelchair Resources
Different Types of Pet Wheelchairs


Return to Mobility Advisor HOME