Wheelchair Donations
Organizations that Accept & Distribute Wheelchairs
Please Note: Mobility-Advisor.com is not able to provide or accept wheelchair donations. Yet, below is a list of organizations that accept and redistribute donated mobility equipment to help people in need.

If you are looking to donate mobility equipment or seek a donated wheelchair or other mobility aid, contact one or more of the following local resources for referral contacts in your city or region.
Department of Social Services
United Way chapter
Seniors' organizations
Mobility retailers and suppliers
Hospitals and physical therapy practices
Area churches, synagogues, temples and/or mosques
Other local charitable groups that serve people with physical challenges
In addition, the following non-profit organizations provide wheelchair donations and other related mobility aids to enable greater access to those in need. If you would like to recommend other organizations that accept and distribute mobility equipment donations, please click here.
Alternatives in Motion
alternativesinmotion.org
Founded in 1995, this not-for-profit organization helps provide wheelchairs for people who are uninsured.
Arms Wide Open CDC
armswideopen.org
Nonprofit Arms Wide Open is based in Decatur, Georgia and provides in-home aged, chronically ill, and disabled individuals with wheelchairs and other services to enhance their comfort, independence, and safety.
Arthur B. Schultz Foundation
absfoundation.org
Provides online wheelchair donation and distribution services in developing countries. This foundation also is working with representatives in Vietnam and Guatemala to develop in-country capabilities for wheelchair manufacturing and repair.
Ascent Project
ascentproject.org
The Ascent Project is a non-profit, volunteer organization that provides wheelchair ramps for little or no cost to residents of California's Silicon Valley.
Chariots of Hope
chariotsofhope.org
Established for the sole purpose of collecting used wheelchairs for redistribution, this nonprofit organization repairs donated mobility chairs and provides them at no cost to people in need.
Children's Assistive Technology Services
atdevicesforkids.org
CATS is a pediatric durable medical equipment re-use organization, providing assistive technology devices at no cost to children who need it.  CATS serves families and children in Virginia.

Darrell Gwynn Foundation
darrellgwynnfoundation.org
This foundation raises awareness of spinal cord injuries, provides support for people with paralysis, and manages a national power-wheelchair donation program.

Direct Relief International
directrelief.org
Since its inception, Direct Relief has provided appropriate and specifically requested medical resources, including wheelchair donations, to community-based institutions and organizations in over 140 countries including the United States.
Embraced 
embracedatlanta.org 
The mission of Atlanta, Georgia-based Embraced is to ensure that all people have access to quality assistive mobility devices and prosthetic medical equipment that improves the quality of their lives.

Foundation for Rehabilitation Equipment
free-foundation.org
Accepts donations of wheelchair and rehabilitative equipment and then repairs, sanitizes and gifts the items to adults in need who live in the Commonwealth of Virginia. 
Free Wheelchair Mission
freewheelchairmission.org
Partners with worldwide charitable organizations to create and donate wheelchairs to physically challenged individuals living in 46 countries.
Friends of Disabled Adults and Children (FODAC)
fodac.org
Providing wheelchairs and other medical disabilities to people in the metro Atlanta, Georgia area with disabilities.
Friends of the Disabled Latin America (FRIDLA)
fridla.org
Seeks out those affected by physical disability in Latin America and supplies all types of mobility equipment to those in need. FRIDLA also conducts outreach initiatives to educate communities and families about the challenges of caring for individuals with disabilities.
Hope Haven International
hopehaveninternational.org
Refurbishes mobility wheel chairs and manufactures pediatric wheelchairs to distribute to physically challenge people around the world through international sponsors.
Intelligent Mobility International
intelligentmobility.org
Designs, produces, and distributes affordable and durable wheelchairs, suitable for terrain in developing countries, to help people with disabilities find sustainable employment and new hope in their lives.
Kansas Equipment Exchange
equipmentexchange.ku.edu
Helps Kansans obtain affordable, durable medical equipment and assistive technology. Accepts wheelchair donations, hospital beds, lifts and other medical equipment, which is then refurbished and given to Kansas residents in need. For more information, call 866-666-1470. For the location closest to you, call 800-526-3648.
The Kids Equipment Network
tken.org
Provides physically challenged children and youth with refurbished durable medical and adaptive equipment in circumstances when their families do not have the means to pay for mobility aids. For more information, call 630-965-8176.
Kids First Enterprise
kidsfirstenterpise.org
A charitable foundation that supports disabled and disadvantaged children and families through wheelchair donations and a wide range of other support services.
LifeNets - The Wheelchair Project
lifenets.org
LifeNets matches donated wheelchairs with needy recipients who cannot afford or qualify for wheelchairs in the United States. The organization networks with medical missionary organizations and individuals to access and provide donated wheelchairs
The Mobility Project
mobilityproject.org
The Mobility Project exists to serve disabled people living in poverty around the world by delivering and individually fitting wheelchairs, crutches, walkers and other medical equipment to the disabled in need. Additionally, the organization develops builds wheelchair refurbishing and manufacturing facilities in developing nations.
Mobility Unlimited
mobilityunlimited.org
Mobility Unlimited is dedicated to helping working adults in Oregon who have physical disabilities obtain the mobility equipment required to live independently and maintain employment.
Muscular Dystrophy Association (MDA)
mda.org
MDA offices across the U.S. and Puerto Rico accept donations of manual and powered wheelchairs, mobility scooters, hospital beds, lift chairs, walkers, and other medical equipment. Donated items are refurbished and provided at no cost to local individuals in need.
Orphaned Wheelchairs and The Wheelchair Foundation 
wheelchairfoundation.org
The Wheelchair Foundation has partnered with Orphaned Wheelchairs to deliver wheelchairs to people in the United States. Orphaned Wheelchairs takes donations of new and used wheelchair equipment, identifies recipients in the USA, and distributes the wheelchair equipment to those in need.
Phoenix First – Medical Lending Closet
phoenixfirst.org
Seeks donations for wheelchairs with foot rests to provide to people in need who cannot afford to purchase them. Phoenix First also handles donations of other types of mobility aids, including walkers, canes, bath benches, etc.
Reach Out and Care Wheels Inc. - "ROC Wheels"
rocwheels.org
Selected as one of eight organizations by World Learning/USAID for the provision and services of mobility products to less resourced countries, ROC provides specially designed wheelchairs for children and adults in developing countries.
REquipment (Massachusetts)
dmerequipment.org
The REquipment DME reuse program accepts donations of gently-used equipment, including power and manual wheelchairs. Donations are sanitized and refurbished, and posted online. REquipment is free to Massachusetts residents with disabilities and seniors. Pick up and delivery is available in Greater Boston and Central Massachusetts. Call toll-free 1-866-244-6156.

Social Education Awareness Society (SEAS)- Pakistan
seaspk.org
As part of its mission to promote women empowerment and help developing communities throughout Pakistan, SEAS facilitates the distribution of walking aids and wheelchairs chairs to disabled individuals.

Special Kids Fund
specialkidsfund.org
Special Kids Fund is an alliance of schools, hospitals, and social service organizations that providing for the special needs of children with disabilities and at-risk youth. Through the Special Kids Fund Vehicles for the Disabled Program, donated wheelchair vans and vehicles are given to physically disabled persons who are not able to afford them.
Variety - The Children's Charity of Wisconsin
varietywi.org
Provides life-enriching assistance to Wisconsin children challenged by physical disabilities. The organization's "Our Kids on the Go!" grant program funds wheelchairs, adaptive strollers, ramps and other mobility equipment for children 21 years of age and younger whose need for enabling equipment is not met by any other source.
Wheelchair Foundation
wheelchairfoundation.org
Supported by donations and federal funding, Wheelchair Foundation distributes hospital-style wheelchairs free to disabled people in developing countries and in the US.
Wheelchair Recycling Program
wrp.org
The Wheelchair Recycling Program offers low cost, refurbished mobility and medical equipment to those who lack the resources to acquire new equipment. All equipment is donated by individuals, businesses, and other nonprofit agencies. Every item is carefully cleaned and repaired by experienced workers at Badger State Industries. Every dollar collected for equipment is re-invested in the program and helps to sustain our services.
Wheels for Humanity
wheelsforhumanity.org
Wheels for Humanity refurbishes donated wheelchairs and individually fits them to children and adults with disabilities in developing nations. The organization partners with international health-care organizations to identify those in greatest need.
Wheels of Mercy
wheelsofmercy.org
Wheels of Mercy collects used wheelchairs, repairs and refurbishes them, and delivers them at no charge to people who need but cannot afford them.
Whirlwind Wheelchair International
whirlwindwheelchair.org
Whirlwind does not take or provide wheelchair donations. Rather the engineering company provides the teaching and technology to help developing countries manufacture, fit and provide long-term mobility support to communities in need.
Wine for Wheels
Wineforwheels.org
An international association of wine enthusiasts dedicated to the "fruit of the vine" and bringing great wine, fine cuisine, and good friends together, at the same time providing wheelchair donations and philanthropic support.
If you know of other charitable sources who accept or provide wheelchair donations, please contact us. Thank you! 
Related Information - Wheelchair Donations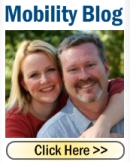 How the Free Wheelchair Mission Began
Disability Resource Organizations
Mobiilty Chairs: An Overview
How to Buy from a Discount Wheelchair Retailer
Other Mobility Resources and Information
Mobility Advisor HOME

›
Mobility Help and Support
› Wheelchair Donations