The Free Wheelchair Mission
Serves the Globe
How the Free Wheelchair Mission Began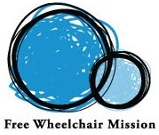 Over 25 years ago, a fellow named Don Shoendorfer was traveling in Morocco and witnessed a sight that inspired him to make a difference in the world. To bear witness to the sight of a crippled Moroccan woman dragging herself across a dirty road in the middle of town proved too much for him.
Her image haunted him for many years to come, until he decided to put his education to use for those less fortunate. He has undertaken a task of great importance, which has the potential to change lives.
In 1999, Don established the Free Wheelchair Mission as a non-profit organization and set to work giving mobility and dignity back to disabled people in developing countries.
With his Ph.D. in mechanical engineering and a heart of gold, Don has achieved what so many well intentioned organizations strive for.
He has given thousands of people the renewed opportunity to live and experience life. And with that, he has given them hope for the future.
The initial challenge facing Don was that of developing a wheelchair that was safe and functional, but also relatively inexpensive.
He set about doing research and development and, over time, came up with a design that has virtually eliminated the cost burden generally associated with wheelchairs and wheelchair production.
The nonprofit organization has developed a wheelchair that sells for approximately $50.00 (US), which includes the costs of manufacturing, shipping, and distribution.
The second major challenge facing Don and his mission team was the ability to provide these low cost wheelchairs to disabled persons in developing countries at no cost. 
To overcome this challenge, they established partnerships with a number of charitable associations.
To date, Don's organization has provided wheelchairs free of cost to more than tens of thousands of people in more than 46 countries worldwide.
This article was written by Raquel Simons who has done extensive research on wheelchairs and related topics.

Wheelchair Donations
Mobility Resources
Back to Mobility Advisor HOME from Free Wheelchair Mission