Beach Wheelchair Information

A beach wheelchair makes it possible for people with mobility challenges to enjoy the sand and seaside activities. Beach mobility chairs are equipped with large, wide wheels that roll across the sand without sinking.
In addition to traversing sandy surfaces, some models are navigable on all types of terrain including mud, grass, snow, and rocky areas, allowing users to enjoy all that the great outdoors has to offer.

If you plan to take frequent trips to the beach or other outdoor areas, you may want to consider investing in one of these recreational chairs.  

Wheelchairs designed for the beach can usually be disassembled quickly for easy transport and storage. No tools are typically necessary to assemble them because they utilize quick-release pins.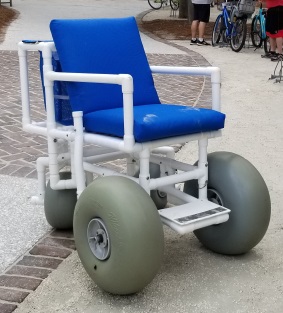 Some public beaches and parks provide beach wheel chairs free of charge. Others offer rentals either on a first-come, first served basis or by reservation. It advisable to call ahead to inquire about availability and access.

Types of Beach Wheelchairs

Beach wheel chairs feature soft, plastic pneumatic wheels that absorb road shocks, which makes the ride smooth and comfortable.
Manual models require someone to push them; though, there are also self-propelled, motorized models available.   
A reclining beach wheel chair features an adjustable seat and foot rest that allows the user to lie completely flat to get a tan or rest. There are also beach wheel chairs that float in the water.

Beach chair conversion kits are available that enable a regular, manual wheelchair to be transformed into an all-terrain wheelchair.

You can also fasten your own wheelchair to a specially made platform dolly, or wheelchair carrier, which allows you to traverse the beach and other outdoor terrain from the comfort of your own wheelchair.  By using a platform dolly, you can remain in your own custom-fit chair. 

Beach mobility chairs can often accommodate people who weigh up to 350 pounds.  Some manufacturers can build all-terrain mobility chairs with larger weight capacities upon request. 
 
If you are considering a purchase, the National Center on Accessibility offers valuable reference information. Visit the organization's website at http://www.ncaonline.org. In addition, more articles on beach and all-terrain mobility chairs are listed below.

Related Information: Beach Wheelchair
All Terrain Wheelchairs
More on Purchasing a Beach Wheelchair
Finding a Disabled-Friendly Hotel
Sports Wheel Chairs
Mobility Advisor HOME

›
All-Terrain Wheelchairs
› Beach Wheelchair