Wheel Chair Transfer from a Vehicle Using Robotic Technology
Mechanical Arm Helps with a Vehicle Wheel Chair Transfer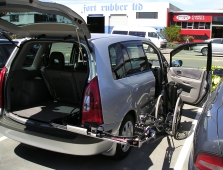 Robotic technology now offers wheelchair users even greater independence by providing a convenient way to store and retrieve a wheel chair from the trunk of a vehicle with the use of a robotic arm.
Driven from the vehicle's electrical system, fixed-frame and folding wheelchairs can be moved with the touch of a switch from the luggage compartment to the left or right side of a vehicle, making it easier to transport and access the mobility chair. The process takes less than a minute and is totally automatic.
This wheelchair "loader" equipment can be mechanically adjusted to fit in a wide variety of vehicles, including small cars, station wagons, SUVs and minivans. It can be used in a range models from economy to luxury.
The key requirement is to have sufficient storage room in the car or van to correctly position the chair in the proper orientation the loader uses. Once the equipment is installed, the vehicle's external appearance remains unchanged.
According to Greg Ewing of New Zealand-based AbiliQuip, the robotic technology allows wheelchairs users to more easily travel unaccompanied to work, social activities and sporting events. As a result, people benefit from greater freedom and flexibility during outings.
In addition, the technology helps reduce the chance of injury for both users and caregivers since no effort is exerted to lift and move the chair in preparation for a wheel chair transfer from a vehicle.
The mechanics of chair unloading is driven by two industry-standard electrical actuators powered from the car electrical system. A third actuator, mounted on the main base, is used to open the trunk when it is not already electrically controlled.
In addition to a single wheelchair, multiple chairs can be set up to work with one robotic loader. For example, the equipment can be easily adjusted to accommodate a sports wheelchair for recreational use and a standard manual chair for everyday needs.
As owner requirements change, the robotic loader can be transferred to another vehicle. Once uninstalled, the vehicle's storage area is returned to its original appearance since the installation is not intrusive.
Related Information - Wheel Chair Transfer
Wheelchair Van Conversions
Mobility Resources
Mobility Ramps
 Buying Recommendations for Adaptive Vans
Converting a Wheelchair Accessible Van
Adapting a Handicap Accessible Vehicle
Buying a Used Wheelchair Van
Mobility Lifts
Mobility Van Conversions

Mobility Advisor HOME

›
Wheelchair Vans
› Wheel Chair Transfer