Wheel Chair Vans – Shopping Tips
Shopping for wheel chair vans involves thoughtful research and evaluation to ensure you select a reliable vehicle that is comfortable and properly equipped to meet your specific needs.
Choosing the Appropriate Vehicle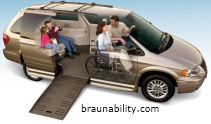 As you begin your selection process, first consider how you will be using the van. Will you be the driver or passenger? How many passengers does the van need to accommodate? Under what conditions will you typically be entering and exiting the vehicle?
You may want to contact the Association for Driver Rehabilitation Specialists at 866-672-9466 (toll free in the US and Canada) or a local rehabilitation facility to inquire about having an evaluation completed that details your specific vehicle requirements.
For example, the van must provide ample headroom for you to enter and exit. The access ramp or lift must easily accommodate the width and weight of your electric or manual mobility chair. Controls must be easily accessible and wheel chair safety belts and other equipment must be installed properly.
Finding a Qualified Dealer 

If you are purchasing a new or used wheelchair van from a dealer, check the seller's standing with the Better Business Bureau. Also find out if the dealer's vehicles comply with Adaptive Driving Alliance (adamobility.com) and National Mobility Equipment Dealers Association (nmeda.com) standards.
Purchasing Used Wheel Chair Vans

If you are purchasing a used adaptive vehicle, first check the vehicle's history report and ask for receipts proving what past work and maintenance have been done on the vehicle. Examine the condition of the interior and exterior of the van, as well as the tires. 
Then, consider asking an independent mechanic to examine under the hood and make recommendations about what maintenance or possible repairs the van may need after purchase. Keep these potential costs in mind when considering the dealer's purchase price.

Test the functionality of the van's mobility equipment several times and make sure that manual back-up operations are in good condition as well. Carefully look at the wheelchair tie down system to ensure that it is in good condition and that belts are not torn or damaged in any way.
Whether you are buying a new or used van, always take the vehicle for a test drive to ensure it offers a comfortable ride and everything works properly. Inquire about servicing for your van and learn about the specifics of any available warranty. For more tips on purchasing a wheelchair van, click here.
Wheelchair Van Lifts
More on Wheel Chair Vans
Mobility Resources
Mobility Van Sales


Return to Mobility Advisor HOME