Training Service Dogs
Training service dogs is a challenging and time-consuming task. Not only do you have to find a healthy, strong dog with a good temperament, you also need to teach him or her how to perform very specific, life-enhancing tasks. Many people don't have the specialized expertise or time to train their own service dogs. So, they contact a dog training program or organization to secure their aide dog.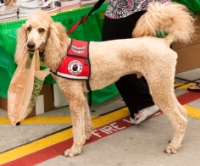 Depending on the program or organization, this may require a cash outlay for the acquisition of dog and to cover his or her intensive training.
Some non-profit organizations have special grants and fundraising initiatives that enable them to provide service dogs at no charge to those with demonstrated financial need. Often, there are long waiting lists.
Standards for Training
Organizations that specialize in training service dogs typically have minimum standards and guidelines.
For example, dogs that are trained through programs belonging to Assistance Dog International (ADI), must meet the following minimum capability and performance standards, among others:
Respond to commands from the client 90% of the time on first ask in public and at home;
Demonstrate basic obedience by responding to voice and/or hand signals for sitting, walking near owner, lying down, staying in place, and coming to the owner;
Perform at least three tasks to mitigate the owner's disability;
Be spayed and neutered; and
Have current vaccination certificates.
Many organizations that specialize in training service dogs breed their own puppies and raise them according to strict guidelines to ensure high success rates. The puppies are given a healthy diet, socialization opportunities, plenty of affection, and obedience classes.
Then, the official service dog training period usually begins when the dogs reach 12 to 15 months of age. The training period may last from six months to one year, depending on the program.
Prior to initiating training, the potential service dogs must undergo medical tests and evaluations of their temperament. If they do not pass these tests, the dogs are not accepted into the program and are put up for adoption.
While not meeting the requirements for a service animal, these dogs typically make excellent pets and often there is a list to adopt them, as well.
Requirements for Trainers

While there are no official training programs or credentials for service dog trainers, most trainers relate well to dogs and have excellent communication skills. Service dog trainers generally receive significant on-the-job training.
Many have a background working with dogs in the military or at a kennel. Service dog trainers have to be in shape because the job can be physically demanding.
These special individuals possess extensive knowledge of canine behavior, canine care and safety, learning theory, and dog training techniques.
How Service Dogs Are Trained

Generally, in the first half of a training program, potential service dogs are taught basic obedience commands. If they pass the first half of the training program, the dogs continue to the second half of the training program, during which they practice working in different environments and learn more complex commands, such as turning a light switch on and off.
Service dogs are usually matched with their future handlers towards the end of the training period. Subsequently, team training takes place so that the service dog and his or her handler can learn to work together.
Most organizations that specialize in training service dogs provide follow-up programs to ensure the ongoing success of partnerships between service dogs and their owners.
For information about the different types of service dogs and the duties they perform, please click here: types of service dogs.


Back to Mobility Advisor Home from Training Service Dogs