Tips for Renting a Wheelchair Van
Renting a Wheelchair Van for Short-Term Use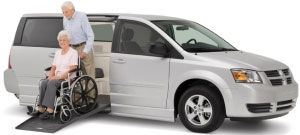 Demand is continuing to increase for wheelchair accessible van rentals on a short-term or occasional basis.
Fortunately, there are a growing number of vehicle and mobility dealers who are filling this need by providing van rentals by the day, week or month.
When should you rent a wheelchair accessible van?
When you are recovering from an injury or illness that has left you temporarily disabled.
When you are entertaining a visitor who is a wheelchair user.
When your personal wheelchair van requires a lengthy visit to the repair shop.
When you are researching a wheelchair van purchase and want to "try before you buy."
When you have a loved one who is a wheelchair user and resides an extended care facility -- and you would like to take him or her for outings or appointments.
Types of Wheelchair Vans Available for Rent
The most common rental wheelchair van is the minivan with a lowered floor conversion that includes an automatic or manual wheelchair ramp.
Full-size vans are also popular choices among families, people who require extra space, and for those who need to transport additional cargo or medical equipment.
These accessible vans feature a raised roof and raised doors with wheelchair lifts installed.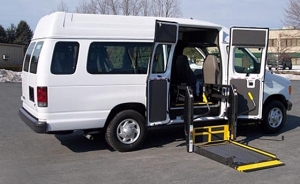 In addition, some rental organizations will rent commercial style wheelchair buses and vans for families, groups or facilities that have a need to transport multiple wheelchair users and other passengers.

Important Considerations

According to Bill Blaser of Pennsylvania-based VCI Mobility, an expert in specialized transportation products, the first consideration in renting the right wheelchair van is the size of the wheelchair user and his or her wheelchair.
The chart below shows some of the critical dimensions that will guide your choice of wheelchair van. Measure the height, length and width of the wheelchair user-while seated in the wheelchair-and compare them to the dimensions below.
| | | |
| --- | --- | --- |
|  Typical Dimensions |  Minivans |  Full Size Vans |
|  Door Opening Height |  52"-56" |  56"-60" |
|  Interior Height at Center |  57"-61" |  60"-66" |
|  Door Opening Width |  30"-32" |  44"-45" |
|  Ramp/Lift Platform Width |  28"-30" |  30"-34" |
|  Ramp Angle |  7.5° to 13° |  N/A |
Please note that while these dimensions will tell you if you can enter the wheelchair van, they do not indicate the ability to maneuver once inside. Talk with a a van rental professional for additional counsel on the dimensions you need when renting a wheelchair van.
What Else Do I Need to Know?
When you use a rented accessible van, you need to be comfortable with using the wheelchair tie down system and seat belts in order to secure the wheelchair user while you are driving. While it is not overly complicated, it will be a new experience for most people. Mr. Blaser advises taking your time with your rental provider as he or she instructs you on this critical element.
Choosing your Wheelchair Van Rental Provider

When renting a wheelchair van, be sure that your dealers provides clean, late-model vehicles that are in good working order. The best providers typically will not rent vehicles older than five years or with over 50,000 miles. Ask about emergency contact information and response expectations should you experience a breakdown. 
Related Information - Renting a Wheelchair Van
Mobility Van Sales
Recommendations for Buying Adaptive Vans
Converting a Wheelchair Accessible Van
More on Adapting a Handicap Accessible Vehicle
Buying a Used Wheelchair Van
Mobility Lifts
Wheelchair Tiedowns for Vans
Saving with a Used Van Purchase
Mobility Advisor HOME

›
Mobility Van Sales
› Renting a Wheelchair Van