Off-Road Wheelchairs
Off-road wheelchairs, sometimes referred to as 4x4 or all-terrain wheelchairs, are built so users can safely traverse uneven terrain, including gravel paths, soft dirt and sandy surfaces, street curbs, and nature trails. Off-road chairs also make it easier to travel over small hills and uneven or rocky surfaces.
All-terrain mobility chairs may be manual or electrically powered, and enable people to experience a greater level of freedom and enjoyment of the outdoors without the assistance of others.
These rugged wheelchairs, which vary by style and model, typically feature large, knobby wheels and self-leveling technology.
Computerized sensors and gyroscopes help users maintain an upright seated position at all times – even when navigating slopes, declines, and rough riding areas.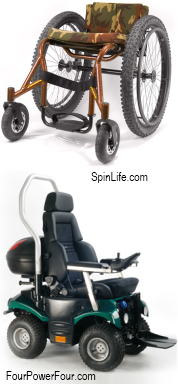 Technological advancements have paved the way for more manufacturers and models to be offered in the marketplace at increasingly competitive prices. As a result, wheelchair users have more choice and options for their off-road chair.
For example, there are models offering a 360-degree turning radius for maximum maneuverability. Others types are designed to elevate users to standing height. Some 4x4 wheelchairs have the ability to take users up flights of stairs or can be used as beach wheel chairs.
The all-terrain wheelchairs that are offered today are designed for recreational purposes and are typically priced from $2,000 to $15,000, depending on functionality features.
Physical, cognitive, and perception skills are required to operate these chairs and extensive training is required. Always consult with your doctor before purchasing an all-terrain chair.
When shopping for an all-terrain wheelchair, be sure to test-drive various models and ask questions about training, reliability and servicing. You may also want to rent an off-road chair during a vacation for a more extended evaluation period before making a purchase.
Beach All Terrain Wheelchairs
More on Off-Road Wheelchairs
Folding Wheelchair Ramp
Mobility Hand Controls

Back to Mobility Advisor HOME