Adventure Trips to East Africa
For Wheelchair Travelers
Safari Vacation Planners Cater to Wheelchair Travelers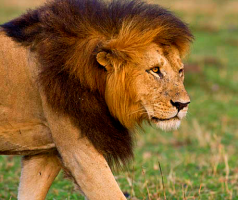 Tracking wildlife in East Africa on a safari provides an extraordinary experience for those looking for adventure, exploration and magnificent beauty.
Vacationers will find a wide variety of safari options, including customized itineraries and accommodations specifically designed to meet the needs of wheelchair travelers.
Tour and travel companies such as Go Africa Safaris & Travel specialize in disabled travel planning and tailor safari vacations to suit individual needs and mobility requirements. In addition to trip planning based on interests, length-of-stay and budget parameters, these companies work with wheelchair travelers to ensure safari tours, vacation activities and accommodations are fully accessible.
Designing Your Vacation
The first step in the planning process is to determine the type of safari vacation experience you want. This includes what you want to do during your trip, your desired length of stay and how much you want to spend.
East Africa offers a range of holiday experiences for wheel chair travelers from high-class safaris with stays in lavish lodges followed by a luxurious coastal break… to an independent holiday where you explore the region's deserts, mountains and rainforests.
Use Experienced Travel Specialists

It is important to work with travel agents who are specialists in safari vacation planning and have hands-on experience designing vacations for wheelchair travelers.
These experts can handle all aspects of your trip to ensure accessibility and will reserve excursions, accommodations, tours and other activities in advance. In addition, agents will arrange for mobility equipment rental, accessible transportation, and experienced guides to ensure you fully enjoy your safari vacation experience.
Ask During Travel Planning…

Will safari vehicles be accessible to me (ramps, lifts, wheelchair tie-downs, etc)?
Will small aircraft be used to reach safari camps or vehicles – and will the planes be accessible?
Do all areas of the accommodations (reception, restaurant, swimming pool, bedroom and bathroom) have the level of access that I need?
Are there medical facilities and staff in the vicinity?
What will the weather be like when I visit?
Guard Your Health 

Visit your doctor or health clinic long before departure to determine the recommended and compulsory vaccinations you will need. Ask your medical provider for suggestions on things you can do to promote wellness before and during your trip.
Wheel chair travelers will find East Africa offers good medical facilities in major towns, both inland and in coastal resorts. Wheelchairs (including all-terrain chairs designed for the beach) and other medical equipment can be rented once you arrive, if necessary.
Prepare for the Climate
Coastal areas are always warm and humid, and even though much of inland East Africa is at a fairly high altitude, midday temperatures can get hot. Be sure to bring sun protection and clothes that will keep you cool.
For safari goers, daily schedules are designed to maximize the cooler parts of the day for game drives when animals are more active.
Take Security Measures 

Africans are some of the friendliest and welcoming people in the world. Though, incomes and standards-of-living are generally well below Western standards. Therefore, use care and common sense to keep risk at a minimum. Leave jewelry and other expensive items at home. Use a money belt and avoid city centers after dark.
Catering to Wheelchair Vacationers

In recent years, many lodges and hotels in East Africa have upgraded their offerings to attract more wheelchair travelers. These include the availability of more accessible rooms, providing access to mobility equipment and having trained staff with expertise in helping people with disabilities.
In addition, there is an increasing number of travel operators with services to help wheelchair travelers fully enjoy the splendor of East Africa and the abundant vacation experiences that await them.
For more information on safari vacations in Kenya and Tanzania, visit www.go-africa-safaris.com.
Related Information - Wheelchair Travelers
Resources for Wheelchair Travelers
Accessible Maui Travel 
Travel Tips for People with Mobility Challenges
Mobility Advisor HOME

›
Accessible Travel
› Safaris for Wheelchair Travelers