Sport of Wheelchair Dancing
Grows Worldwide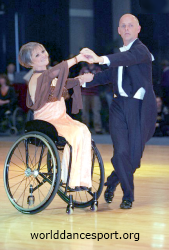 Wheelchair dancing continues its popularity around the globe and is now recognized as an official international paralympic sport. 
With a growing number of dance centers and organizations that cater to those who are physically challenged, wheelchair users can learn to dance socially or competitively – and actively participate in their favorite dance styles.  These include square dancing, line dancing, ballet, jazz, Latin American, and traditional ballroom dancing. In more than 40 countries, people of all ages and physical abilities participate in dance activities with their manual or power mobility chairs. 
There are four ways in which to dance:
Combi-dance: Integrates an able-bodied individual with a disabled dancer and allows couples to participate in dances such as waltz, tango, Viennese waltz, slow fox, and quickstep, as well as Latin American dances, such as samba, cha-cha, rumba, paso doble, and jive.
Duo-dance: Features two wheelchair competitors gracing the dance fool together
Group-dance: Includes wheelchair users and able-bodied individuals dancing in synchronized formation, as well as participating with free-style movement to the music.
Single dance: Describes solo performances when a wheelchair user dances alone.
In addition to the enjoyment derived from dance lessons, participation and competition, wheel chair dancing – like other forms of dancing – can provide benefits both physically and mentally.
Wheelchair users have said they feel more inspired and confident from regular dance involvement. Some people suggest that dancing has enabled them to require less physical therapy because of the exercise they get during practice and performances.
The sport is governed by International Dance Sport Federation rules, as modified by the International Paralympic Committee. 
These rules outline the floor size, dance forms, music tempo and duration, number of couples who may compete, and costumes. Several rounds of competition are conducted, based on the particular event, and dance performances are evaluated by five to seven expert judges.
Wheelchair Dancing - Organizations and Contacts
Adaptive Dancing
www.adaptivedancing.com
American DanceWheels
www.americandancewheels.org
Axis Dance Company
www.axisdance.org
Full Radius Dance
www.fullradiusdance.org
Icelandic Dance Sport Federation
www.danssport.is
International Dance Sports Federation
www.idsf.net
International Paralympic Committee
www.paralympic.org
Malta Wheelchair Danceport Association
www.maltawda.com
U.S. Wheel Chair Dancing
www.uswheelchairdancing.com
Wheel Dance (Canada)
www.wheeldance.ca
Wheelchair Dance Sport Association (UK)
wwdsauk.co.uk
Wheel Chair Dance Sport Australia
www.wheelchairdancesport.com.au
Wheel Chair Dance Club of Holland
www.rolstoeldansen.nl
Wheel Chair Dance Sport Committee
www.wdance.com
Wheel Chair Dance Sport Russia
www.wdr.ru
Wheel Chair Dance Sport USA
www.wheelchairdancesportusa.org

Wheel Chair Dancers
wheelchairdancers.org

If you would like to suggest other dancing resources, centers or organizations to be added to this resource list, please click here.


Related Information: Wheelchair Dancing
Wheelchair Sports
Wheelchair Tai Chi Chuan
Wheelchair Fencing
Paralympic Games
Wheelchair Travel


Mobility Advisor HOME

›
Wheelchair Sports Activities
› Wheelchair Dancing