Wheelchair Accessible Cruises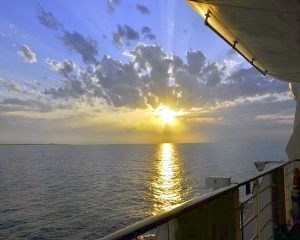 Wheelchair accessible cruises offer splendid vacation opportunities filled with beautiful scenery, extensive activities, fine cuisine, and a variety of entertainment.
Most major cruise lines around the globe cater to wheelchair travelers and offer special services and accommodations to make vacationing hassle-free and enjoyable. Yet, each ship and cruise line is different so it is important to do your research before booking.
As you plan your vacation, there are several factors to consider when selecting accessible cruises. Ultimately, passengers who use wheelchairs must be able to easily move around the ship, have a comfortable cabin with an accessible bathroom, and be able to participate in on-board activities and shore excursions.
To comply with the Americans with Disabilities Act (ADA), major cruise lines have made cabins and public areas accessible to mobility chairs. In general, it's best to go with newer ships. Although most older ships have been modified to comply with the ADA, some of them still have narrow doorways and inaccessible public areas.
When researching wheelchair accessible cruises, determine whether they have accessible public bathrooms and if there are any obstacles such as stairs or high doorway sills, which are designed to keep water out of the cabins. Doors with sills should feature ramps that go over the sills.
Cruise ships typically have a designated number of cabins for wheelchair users. The doorway of the cabin should be at least 30 inches wide to accommodate a standard wheelchair. The cabin should be large enough for you to be able to turn around in while in your wheelchair.
To ensure that you will be able to get around the ship, find out if the elevators are large enough to accommodate wheelchair passengers, and if the public bathrooms and dining rooms are wheelchair accessible.
Some cruise lines may require disabled passengers to be accompanied by an able-bodied individual. Designated ships, such as Holland America's Rotterdam, have accessible cabins with doors that connect to standard cabins for wheelchair users traveling with able-bodied companions.
Also find out if the cruise line can accommodate wheelchair users during excursions. For example, Crystal Cruises arranges for tour buses to accommodate wheelchair users during excursions. Alaska is a good cruise destination for wheelchair users who want to spend a lot of time on shore because the sidewalks in Alaskan towns are wheelchair accessible.
For more information about disabled-access cruises and for assistance in planning your cruise, consult a travel agent who specializes in providing services to disabled travelers. For a list of organizations that cater to the needs of mobility-challenged travelers, click here.
Related Information - Wheelchair Accessible Cruises
Accessible Vacation Ideas
Resources for Mobility Challenged Travelers

Mobility Advisor HOME

›
Disabled Friendly Travel
› Wheelchair Accessible Cruises