International Paraplegic 


Wheelchair Sports



About the Paralympic Games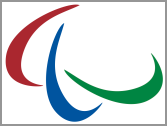 The Paralympic Games are not only for those who use a paraplegic wheelchair, as the name may suggest. Rather, the Paralympic Games (paralympic.org) are the official Olympics for athletes with physical, mental and sensorial disabilities. These include include athletes with mobility disabilities, amputees, visual disabilities and those with Cerebral Palsy.
Sir Ludwig Guttmann organized a sports competition in 1948 which became known as the Stoke Mandeville Games, involving World War II veterans with spinal cord injuries; in 1952 competitors from the Netherlands took part in the competition, giving an international notion to the movement.
The first Olympic Style games for athletes with a disability were held in Rome in 1960 which became the Paralympic Games. The first Winter Paralympics were held in Örnsköldsvik, Sweden in 1976.
The Games are now always held alongside the Olympic Games as of June 19, 2001 when an agreement was signed between the International Olympic Committee (IOC) and the International Paralympic Committee (IPC) securing this practice for the future.
In the 1996 Atlanta games, athletes with intellectual disabilities were allowed to participate for the first time.
However following cheating in the 2000 Sydney games, in which non-disabled athletes were entered in the Spanish basketball team, such athletes posing as paraplegic wheelchairs users have been banned by the IPC.
Following an anti-corruption drive the INAS-FID is currently lobbying to have such athletes reinstated.
The IPC logo consisted on three Agitos. The new Paralympic logo consists of three elements in red, blue and green—the three colours that are most widely represented in national flags around the world. The IPC motto is the "Spirit in Motion."
The name derives from the Greek "para" ("beside" or "alongside") and thus refers to a competition held in parallel with the Olympic Games. No relation with paralysis or paraplegia was intended.
Sports Resources for Paraplegic Wheelchair Users
Wheelchair Basketball Rules
Extreme Wheelchair Sports


Return to Mobility Advisor HOME