Mobility Scooter Lifts
Mobility scooter lifts can be used with nearly all makes of cars, vans and trucks, enabling you to easily transport your scooter wherever your travels take you. Some lift models are designed to carry scooters on the exterior of a vehicle; while, others are designed for interior transport.
Outside vs. Inside Vehicle Lifts
Outdoor lifts can be installed onto a hitch (Class 2 or Class 3) on the back of a vehicle. One of the major advantages of an outdoor lift is that you don't have to disassemble your scooter to transport it.

Some models allow access from either side, while other lifts are accessible from only the driver's side. A variation of these types of lifts, used with minivans, picks up and lifts the scooter like other outside lifts, but then slides inside the vehicle for inside storage.

Inside scooter lifts are installed as trunk lifts for cars and rear/side lifts for vans, minivans and trucks. Most lifts utilize an easy-to-operate manual swing lift to move the scooter into the vehicle.
Other models can help if you have a small trunk with limited space or a situation where the scooter must be picked up along side of your car because of an in-the-way bumper.
Types of Mobility Scooter Lifts

There are two standard categories of scooter lifts available - platform and rotary - that are described below.

Platform Lifts are available with semi-automatic or fully automatic functionality. You can fold, unfold, lower, and raise an automatic platform lift at the touch of a button or control. On the other hand, the platform area of a semi-automatic lift must be folded and unfolded manually.
To operate an automatic platform mobility lift, you drive your mobility scooter onto the platform, carefully get off the scooter, and then use a remote control key pad to lift your scooter into the vehicle.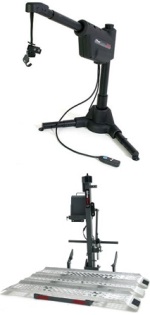 Some platform lifts can be lowered to ground-level; while, others feature a longer ramp that allows you to more easily drive on and off the platform. Safety belts are used to secure the scooter on the lift while the vehicle is in motion.
Rotary Lifts, Also called swing lifts, are commonly used with vans or shuttle buses. They can be positioned by moving the lift up and down and side to side.
Understandably, rotary and semi-automatic platform scooter lifts are typically less expensive than fully automatic platform scooter lifts. Though, these mobility scooter lifts provide less convenience and may require the user to have assistance.
Purchase Considerations

Here are some questions to ask as you are evaluating your options for a mobility lift for your scooter.
Is the size and weight of your scooter compatible with the lift?


How will the lift you are planning to buy get installed and are any modifications required to your vehicle? And if so, what is involved and how much extra expense will you incur over and above the lift purchase price?


What lift accessories, options and warranties do you want to adequately meet your needs and give you peace of mind? For example, if the drive system on your lift fails, would you want a manual back-up emergency system to lower your lift?


How and where will your lift get regular servicing and repairs when needed?
Related Information - Mobility Scooter Lifts
Types of Lifts – An Overview
Electric Wheel Chair Lift
Wheelchair Van Lifts
Platform Lifts
Lift Chairs
Mobility Advisor HOME

›
Types of Lifts
› Mobility Scooter Lifts