Best Cruise Lines for
Wheelchair Travellers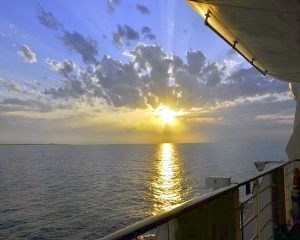 A cruise ship holiday is the perfect way to explore beautiful destinations, indulge in exotic cuisine and discover a wealth of entertainment on board.
Throughout the world, cruise lines cater to wheelchair travellers with special services, appropriate accommodation and public areas that are accessible to mobility chairs.

To help ensure you experience personal care and peace of mind on your trip, here's a look at some of the best cruise lines for wheelchair travellers suggested by  travel expert and writer Nicole Leigh West. She writes for Simply Holiday Deals, a travel company specializing in discounted vacations and cruise specials.
Princess Cruises

The Princess fleet offers more than 350 wheelchair-accessible cabins, so your comfort on board is a priority with the company. There are special gangway mechanisms to make getting on and off the ships easy and the accessibility of shore excursions is listed for each tour.
You'll find widened doorways in cabins, wheel-in showers, hand-held showerheads, lowered sinks and railings and bathroom distress alarms.
In public areas, you can navigate easily through restaurants, theatres, spas, lounges and decks and wheelchair seating is available in show lounges.

Royal Caribbean
Royal Caribbean's ships are known for providing large spaces at sea and catering to special needs. The Freedom-class ships offer wheelchair accessible cabins, both inside and out. So you can swim when you'd like to, lifts are available to reach pool and whirlpool areas.
The Radiance and Vision-class ships offer accessible cabin doors that open automatically, wheelchair friendly public restrooms and ample space throughout public areas, such as casinos and restaurants.
If you choose to sail on the Anthem of the Seas, you'll find roll-in showers in the cabins, lower playing tables at the casino and wheelchair seating at both the back and the front at the main theatre.
Celebrity Cruises
If the most appealing part of a cruise for you is the shore excursions, Celebrity Cruises offer special services to help you make the most of them. One of these includes the use of full-size coaches with wheelchair lift access. Assistance is provided to help with boarding the gangway.
The Soltice-class group of ships offer numerous accessible cabins each, including Sky Suites with butler service. Millennium-class vessels offer cabins with ramp access, wide bathroom doors and bathrooms with grab bars, plus you'll find ramps in shops and lowered passenger relations desks.
Disney Cruise Line
When you want to take the whole family on a cruise, Disney Cruise Line offers numerous benefits to ensure your break is easy and relaxing. Disney Dream and Disney Fantasy have accessible cabins with automatic doors that can sleep up to five people and the theatres on board provide wheelchair seating.
When you're heading for a visit to Disney's private island, Castaway Cay in the Bahamas, you'll dock right at the island to make getting on and off easy. Paved pathways line the main promenade and there's accessible cabanas on the beach.
Norwegian Cruise Lines
Embark on Norwegian's Dawn, Jewel or Breakaway-class ships, or choose the vibrant Norwegian Epic for ease of cruise travel. Balcony and suite cabins with sliding doors are available and bathrooms offer shower chairs, lower sinks, toilets and grab rails.  Many public areas also boast power sliding doors and elevators indicate the accessible floors or alternate access.
With the practical features available to assist with wheelchair accessibility on the top cruise lines, all you need to do is decide where you'd like to go in the world - and set sail on the holiday of a lifetime.
More about Nicole Leigh West
Nicole Leigh West is an editor at Simply Holiday Deals. With more than 60 countries ticked off her travel bucket list, first-hand adventures have contributed to a portfolio of internationally published work across 10 years as a professional writer.
More Info - Cruise Lines for Wheelchair Travellers
Wheelchair Travel - A Primer
Wheelchair Accessible CruisesFinding the Right Wheelchair Accessible Hotel
Ideas for Accessible Vacation Tours|
Accessible Bed and Breakfast Inns
African Safari Vacations for Wheelchair Travelers
Accessible Camping
Wheelchair RV Vacationing
More on Disabled Friendly Travel
Selecting an Accessible-Friendly Hotel
Maui: Catering to Disabled Travelers
Hotline for Air Travelers with Disabilities
Tips on ADA Hotel Selection
Considering an Accessible Timeshare?
Making Accessible Travel Reservations Online
Mobility Advisor HOME

›
Mobility Travel
› Cruise Lines for Wheelchair Travellers
Google