Mobility and Wheel Chair

Adaptive Living Guide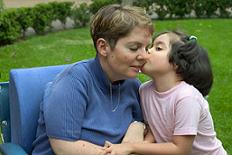 Welcome! Mobility-Advisor.com serves as an educational guide on wheel chair options, mobility equipment, disability resources, and recreational outlets that enhance the lives of individuals of all ages who need mobility assistance.
I created this site to honor my mother, Anita K. Schwab, who was left paralyzed after a devastating stroke – and fully reliant on a wheel chair for mobility. Consistent with the way she lived her life, my mom never lost her positive attitude and steadfast belief that anything is possible with the right outlook, motivation, and tools.
With enviable determination and fervor, she took full advantage of educational opportunities, mobility aids, and wheelchair equipment to live each day more independently and experience greater joy. 
In that spirit, each article and resource on this web site is designed to offer insights to help you have more informed discussions with your health care professional. You'll also find helpful tips on achieving a more independent and satisfying lifestyle.
Therefore, I hope you will find this mobility site beneficial... whether you need information on wheel chairs, mobility scooters, wheelchair vans, lifts and ramps, wheelchair sports organizations, or accessible travel tips.
Wheel Chair Mobility Resources 
We also provide an extensive list of resources where you can reach out for information and assistance whenever the need arises. Click on this link for a list of organizations that provide mobility help and education.
If you want to learn about service or aid dogs – including benefits, training and applying for a trained assistance animal – be sure to check out our section on service dogs, as well. 
In addition, there's information on how to enhance mobility and quality of life for a physically challenged dog or cat. You'll find tips and resources for getting a custom-fit wheelchair or other adaptive equipment for your beloved furry friend.  
Please remember to always consult with your healthcare professional for all mobility-related decisions.
Your feedback is encouraged!
I appreciate your visiting Mobility-Advisor.com. Your comments are always welcomed and will be used to continually enhance the value of this site for visitors. Please take a moment to share your thoughts by clicking here: Contact Mobility-Advisor.com. Thank you!
- Jules Sowder, Publisher


---
Shop for Mobility Equipment
Click below on the category of your choice.
Now Trending on the Web
---
Google
Published by Jules Sowder