Wheelchair Tennis Community App

USTA Offers Free App for Wheelchair Tennis Players
A "Wheelchair Tennis Community" app is now available thanks to the U.S. Tennis Association. Designed for wheelchair tennis athletes, coaches, family members, and enthusiasts, the app can be downloaded for free to any Apple device through the iTunes App store or Android device through Google Play. 

The  app is designed to serve as a virtual gathering place, enabling people of all ages, skill levels and interests to share their wheelchair tennis stories, post photos and videos, socialize, and learn about upcoming competitions and events.  
What's more, many of the top coaches in the world are offering their insights on the game exclusively on this platform, which allows them to interact with anyone and everyone who participates. 

Ever since Brad Parks founded the sport of wheelchair tennis in 1976, it has become one of the fastest-growing wheelchair sports in the world. And now, there is a vibrant community of wheelchair tennis players consisting of fans, coaches and athletes of all ages and backgrounds.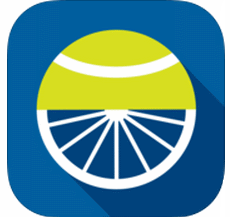 The new app makes this community available anytime at your fingertips – and enables you to quickly and easily connect with others who share the love of the game. Some of the app features include:
Global Activity Feed, which is a quick way to share your photos, read and make comments, and check-in to see where wheelchair tennis is being played any time of the year

Coaches' Corner, a tab where Wheelchair Tennis Community members learn performance and health tips from many of the top wheelchair tennis coaches on the planet

Surveying, where app members are invited and encouraged to provide feedback concerning the pertinent issues of the day related to the sport

Community Spotlights, where select community members are spotlighted and fellow members can read about their backgrounds and see how they're succeeding in making tennis a more inclusive sport. 

Early customer reviews have been universally positive. Shelby Baron, a University of Alabama undergraduate and college tennis player says: "Innovative! [The app] gives members of the community a medium for sharing information, socializing and learning more about wheelchair tennis!"
Community member Jen Candelario adds: "I love the feature where you can see all of the upcoming events in the U.S. It's convenient and easy."
As noted above, the wheelchair tennis community app can be downloaded at no charge from the iTunes App Store or Google Play. 
Related Information - Wheelchair Tennis Community
The Sport of Wheelchair Tennis
Wheelchair Sports Activities
Paralympic Games
Mobility Advisor HOME

›
Wheelchair Sports
› Wheelchair Tennis App