Jazzy Wheelchair Features

Click on photos for product information.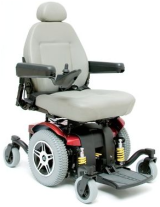 A Jazzy wheelchair is a popular, self-propelled electric wheelchair brand, manufactured by Pride Mobility. A variety of models are available and all Jazzy chairs include features that provide users with enhanced independence and capability, including:
Traveling over hills and inclines
Ascending curbs
Traversing a variety of terrain, including uneven and rough surfaces
Elevating the chair to different levels, allowing the chair user to enjoy eye-level conversations
Maneuvering in extremely tight spaces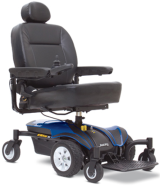 Jazzy mobility chairs bring together the attributes of power wheelchairs combined with added functionality to enhance active lifestyles. They are designed for both indoor and outdoor use. The product line features models built to accommodate different weight capacities and the seats come in a range of sizes for added comfort.
Models are engineered with front-wheel drive and an intelligent system of sensors and electronics to maintain stability and balance for the wheelchair user in all modes of operation.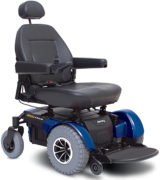 The user can easily adjust the speed, direction and mode of the chair through joystick and button controls. Each jazzy chair runs on a rechargeable battery designed to operate up to a full day on a single charge.
Buying Tips

Before buying a Jazzy chair or other brand of electric wheelchair, test drive different models to ensure the one you select is easy to operate and provides a comfortable, supportive ride.
Discuss with the seller the type of battery you need and whether it is included in the purchase price. Inquire about the predicted battery duration and charge time.
Find out about maintenance requirements for your chair and where you can get it serviced.
Ask about warranties and exactly what costs will be covered.
Have the seller provide you with a detailed list in writing of what is included (and not included) in the purchase price before making your final buying decision.
Types of Mobility Chairs
Sports Wheelchair Information
Scooters and Their Features
Mobiilty Resources


Back to Mobility Advisor HOME from Jazzy Wheelchairs

Google